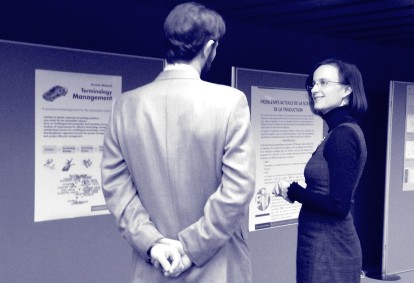 PosterPräsentationen
Die CIUTI fördert den wis­senschaftlichen Nach­wuchs und bietet Dok­torandin­nen und Dok­toran­den die Möglichkeit, ihre Forschung­spro­jekte als Poster-​Session auf dem CIUTI-​Forum einem inter­na­tionalen Fach­pub­likum zu präsen­tieren. Hier finden Sie einige der bisher vorgestell­ten Projekte.
Poster
Year
Occa­sion
Author
Title /​Link to Abstract
2017
CIUTI Forum 2017
Rhona Amos
Pre­dic­tion in Simul­ta­ne­ous Interpreting


2017
CIUTI Forum 2017
Blanca Hernán­dez Pardo
Trans­lat­ing Bioethics: From Idas to Real Life
2017
CIUTI Forum 2017
Esther de Boe
(Video) Remote Interpreting
2017
CIUTI Forum 2017
Camille Col­lard
Sex Dif­fer­ences In Simul­ta­ne­ous Inter­pret­ing: A Corpus-​Based Study
2017
CIUTI Forum 2017
Paola Gen­tile
The Interpreter's Pro­fes­sional Sta­tus. A Soci­o­log­i­cal Inves­ti­ga­tion into the Inter­pret­ing Profession
2017
CIUTI Forum 2017
Gaia Ara­grande
Trans­la­tion and Dis­course in Mul­ti­lin­gual Jour­nal­ism: a corpus-​based approach.
2016
CIUTI Forum 2016
Dr Pedro Jesús Castillo Ortiz
Explor­ing Interpreter-​Mediated Live Radio Interviews
2015
CIUTI Forum 2015
Lin­tao Qi
The Other Use of Latin:
the Net­work of Agents in Clement Egerton's
Eng­lish Trans­la­tion of Jin Ping Mei
2014
CIUTI Forum 2014
Annette Wei­landt
Ter­mi­nol­ogy Man­age­ment. A process-​oriented approach in the auto­mo­bile industry.